Allegheny County's air ranks among the worst counties nationally for cancer risk. And our recent notice of legal action shows that businesses and regulatory agencies don't always act in the best interest of public health.
But what recourse do we have?
The federal Clean Air Act enables organizations like PennFuture to file citizen suits against polluters on behalf of its members.
But what else can we do?
Innovations and evolving technology allow people to become more informed and vocal about what's in their environment. From social media to monitoring devices, residents can test their own air and water quality and push that information out like never before.
How can you learn about what's in your air?
INDOOR AIR MONITORING
Airviz Inc. and the CREATE Lab of Carnegie Mellon University's Robotics Institute developed Speck™, a small device that helps detect fine particulate matter in your indoor environment.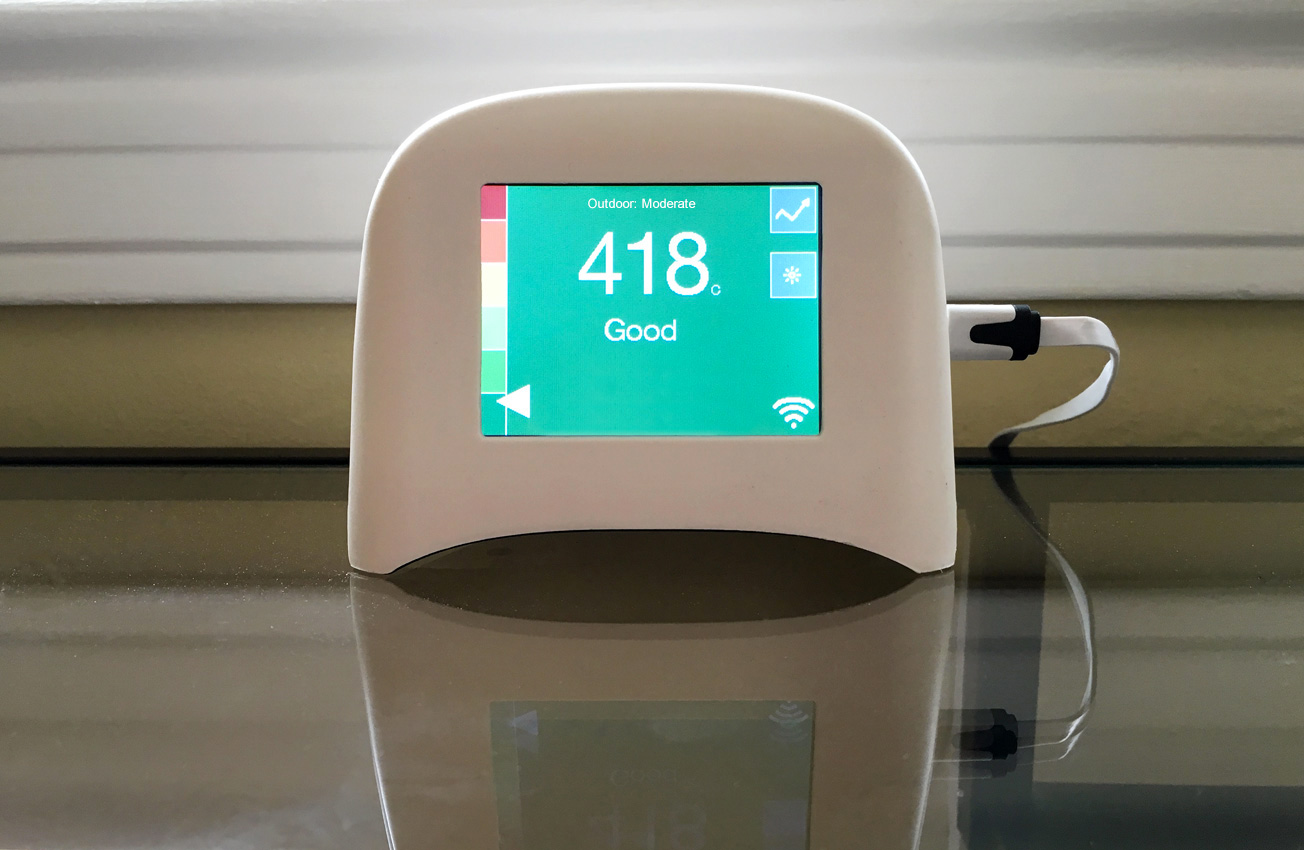 Image via: www.specksensor.com
Clairton resident Cheryl Hurt, who owns a child daycare center, finds it particularly (no pun intended) helpful in a neighborhood located next to a coke plant. Speck allows her to determine when it is and isn't a good day for the kids to go outside.
In addition, Clairton School District is one of the handful of schools that adopted a Speck and will have them available to check out from their library. With these Specks readily accessible, science and math teachers can use the sensors to teach air quality and statistics to their students through provided curricula.
Learn more from the CREATE Lab director, Illah Nourbakhsh.
AIR MONITORING: BIKE EDITION
In addition to the Speck, Group Against Smog and Pollution (GASP) is studying particulate matter hotspots in Pittsburgh and you could help in the process! It's a fairly simple commitment that involves strapping an air monitoring device on your bike while following a specific protocol.
Once the equipment is attached to your bike, continue on your daily commute and GASP will then gather the obtained data to see where the problem areas in Pittsburgh are located, and suggest ways for improvement for your route.
See what pollution has already been recorded from previous bikers.
REGIONAL AIR MONITORING
Do you notice the difference in air quality from day to day? Can you see it in the gif of the North Shore below? The Breathe Cam, a project of CMU's CREATE Lab in partnership with the Breathe Project, gives a regional view of air quality and shows comparisons of clear days and hazy days when fine particulate matter in the air is higher.
The Breathe Project explains the science behind what we see, smell, and breathe each day and ways individuals, businesses, and governments can get involved to improve air quality for the region. The site's Breathe Meter also provides a side-by-side comparison of how Pittsburgh stacks up against cities throughout the nation in terms of air quality. Next time you notice a hazy sky, check out this resource. It might be pollution, not be your Instagram filter, that makes the skies look grey and tan instead of blue.
What does this rise in technology and crowdsourcing mean?
This rise of technology and how organizations utilize new hands-on innovation tools could mean more than creating a general interest in environmental issues for citizens. It could have actual impact on environmental regulations. Seeing actual metrics and visuals before our eyes instead of what seemed to be intangible, invisible issues like air pollution will make us realize there IS a problem and we CAN do something about it.
While the legislative process can seem tedious and lagging, especially with pressing environmental issues that need immediate action, these accessible tools can help us engage in these environmental issues without the slow assistance of government. This year, vow to be informed on what is going on around you in your own community and be a part of the solution! And who knows what technologies will be in store for the future.
Are you already using these tools or others?
Let us know.
Do you suspect poor air quality in your area?
We want to hear your story.
Annie Regan is the western Pennsylvania outreach coordinator for PennFuture and is based in Pittsburgh. She tweets @MsAnnieRegan.